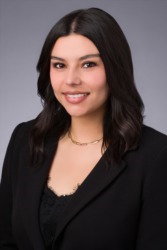 Nicole started her real estate career in 2016, shortly after graduating from the University of San Diego with a degree in Communication Studies. Once licensed, she wanted to start her real estate career where she was born and raised; Los Angeles, California. Now with over 5 years of experience selling real estate in California, she joins us in Las Vegas. 
Having experience in the tough market of Los Angeles, she is more than qualified to help guide you in the competitive Las Vegas Real Estate market. Her skills in negotiating the best terms for her clients and effective communication with both clients and peers have helped her in closing many successful deals. She has experienced all different types of transactions, from condos to multimillion-dollar homes. Ensuring her clients have a positive buying or selling experience from start to finish is one of the most important and rewarding aspects of her career.  Nicole is very excited to join Northcap Residential to continue her career here in Las Vegas and assist you in your home buying or selling process. 
Aside from real estate, Nicole loves to spend time with friends and family, as well as hiking and boating at the lake.